Welcome to the Korean Adoption Board Photo Album for Parent Soup! This album is filled with pictures of all of our children. Come on in and take a look around at all of our beautiful babies! We just LOVE to show them off!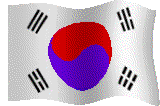 The music you are hearing is "Aegukka", which is the Korean National Anthem. These are the words to the song:
Korean National Anthem

Until the East Sea's waves are dry, (and)
Mount Paektusan worn away, God watch o'er our land forever!
Our Korea manse!

Refrain: Rose of Sharon, thousand miles of range and river land!
Guarded by her people, ever may Korea stand!

Like Mount Namsan armored pine, standing on duty still,
wind or frost, unchanging ever,
be our resolute will.

In autumn's arching evening sky, crystal, and cloudless blue,
Be the radiant moon our spirit,
steadfast, single and true.

With such a will, (and) such a spirit, loyalty, heart and hand,
Let us love, come grief, come gladness,
this our beloved land!
If you have pictures you'd like to share with all of us, please highlight the following section, then right click on it and "copy" it. Then click on the link below to send an e-ml to me and "paste" it into the body of the e-ml. Then attach your photos in either .jpg or .gif format preferably and I will post them on your very own family page!
Your Board Name:

Baby's name:

Meaning of Korean name:

Date of Birth:

Referral date:

Gotcha Date:

Agency name: